Veterinary Services
At Anderson Veterinary Clinic, you can trust that your pets are in great hands. Our compassionate, skillful veterinary staff are here to help when you need us most. We look forward to seeing you soon!
Examinations and Consultations
Palliative Care Counselling
Imaging (X-Ray & Ultrasound)
In House Laboratory/Diagnostic Testing
Parasitology (Worms, Heartworm)
Orthopedic Surgical Referrals
Examinations and Consultations
Bringing your pet to Anderson Veterinary Clinic for physical examinations is crucial to their health. We offer thorough physical examinations to detect any potential problems ahead of time. Many pet health problems can be avoided through regular physical exams, so we recommend that your pet have at least two yearly examinations with our staff. While physical exams are critical to animal health, you can do your part by being a vigilant pet owner.
What exactly does a physical exam include? Some things you can't see, feel, touch, or hear without special tests and equipment, but you can often gain a lot of information about your pet through simple observation. In a physical exam, your veterinarian looks for anything abnormal. What is considered normal is a combination of what is typical for the breed and what is normal for your specific unique pet. Every pet is slightly different, just like every human is different. Once the veterinarian does the basic physical exam, any areas of concern will be given more attention.
Vaccination Programs
Preventative care is an important aspect of maintaining your pet's health. Proper vaccination is vital in protecting them against harmful diseases. We believe that preventative care is one of the most important aspects of maintaining your pet's health. There are a variety of diseases that affect animals, so proper vaccination of your pet is vital in protecting them from the many types of illnesses to which they are susceptible. Starting your pet on the right schedule early is one of the keys to a long and healthy life.
Vaccines are special proteins that prime the immune system to fight off specific infections. They work in two ways: to reduce the severity of such diseases should they strike or to completely prevent infection.
Our pets are faced with many deadly infectious diseases, and vaccines can help protect them. Over the years, vaccines against dangerous diseases have saved millions of pets and virtually eliminated some fatal diseases that were once common.
Spays and Neuters
Spaying or neutering your pet can help them live a longer, healthier life, minimize behavior problems, and help control the population of unwanted dogs and cats. There are many benefits that come with spaying your female companion animal. They include eliminating the sometimes 'messy' heat cycles that attract male dogs and preventing diseases in your pet, such as pyometra (infection in the uterus) and mammary cancer. Additionally, research has shown that spayed pets live longer than pets that have not been spayed. There are also many benefits that come with castrating your male companion animal. These benefits include eliminating undesirable and embarrassing behavior and preventing diseases such as prostate disease and testicular cancer.
Senior Pet Wellness
We love Senior Pets! Senior pets have special needs and benefit from more regular veterinary visits compared to their younger counterparts. Age-associated conditions include:
Arthritis
Heart Disease
Kidney Disease
Dental Disease
Liver Disease
Endocrine Disorders
These conditions will start to become more prevalent as your pet gets older. For this reason, we recommend regular veterinary visits for senior pets. Your aging pet may be showing early signs of osteoarthritis, such as stiffness after rest or play, difficulty going up or down stairs, and reduced activity. Early intervention with joint supplements and prescription arthritis medications, when indicated, along with modified nutrition and exercise plans, can greatly improve your pet's comfort and mobility. Likewise, performing annual screening lab work on your older pet can help identify early stages of medical problems that might go unrecognized and progress significantly without treatment.
Some pets experience age-related behavioral changes that can be a sign of cognitive dysfunction, which is similar in some ways to dementia. Your veterinarian can recommend diet modification and supplements to help improve your older pet's mental sharpness. Getting older doesn't have to be fraught with troubles for your pet… see your vet regularly to help keep your senior pet healthy and comfortable.
Palliative Care Counselling
Palliative and end-of-life care help prevent a pet's suffering by managing pain, meeting nutritional needs, and making sure the pet is comfortable at home. This is particularly beneficial if your pet has been diagnosed with a terminal disease or has a chronic condition that causes pain and discomfort. If your pet has been diagnosed or has any of the following conditions: cognitive dysfunction/dementia, respiratory disease, urinary tract disease, mobility issues, osteoarthritis, cancer, gastrointestinal disease, or intervertebral disc disease, your pet will benefit from a palliative care consult and examination.
It is hard when your pet is getting close to the end of their life, but knowing and preparing for those final moments can help. Planning for your pet's end-of-life care can significantly reduce your stress and worry, regardless of whether your furry friend has a chronic ailment that is lowering their quality of life or is nearing the end of their natural life span. Hospice and palliative care are typical options for end-of-life care for pets.
Schedule An
Appointment Today!
It is our sincere desire to provide the best possible veterinary care to your pet. We look forward to seeing you and your pet! Request an appointment by clicking the button below.
Dentistry & Prophylaxis
Periodontal disease is the most common dental condition affecting dogs and cats. The problem begins when plaque and calculus are allowed to build up on a pet's teeth, especially below the gum line. Bad breath, bleeding and inflammation of the gums, receding gums, loosening, and the eventual loss of teeth are the most common signs.
A complete oral examination is recommended usually once a year as part of your pet's physical examination. A complete oral hygiene program is recommended for you to follow at home. Regular brushing of your pets' teeth with toothpaste formulated for animals and incorporating diets specially formulated to reduce the accumulation of plaque and tartar are the foundation of the complete oral hygiene program.
Professional dental cleaning treatment to keep the teeth clean is therefore of great importance. Other dental conditions, such as malpositioned or fractured teeth and oral tumors, can often be realized during a complete oral examination. Additionally, Anderson Veterinary Clinic has the ability to provide dental radiographs, which are a vital part of a complete exam.
At least 85% of pets over the age of 3 have some form of dental disease. Like humans, pets need regular dental care. Good oral health is essential for maintaining healthy teeth and gums, but it's also extremely important for the pet's overall health. An infection in the mouth can lead to infection throughout the body, which can cause illness. Poor dental hygiene can lead to pets having kidney, heart, and liver disease.
Poor oral health is a condition that can very easily be managed and even prevented. With knowledge, understanding, early intervention, and routine care, your pet's mouth can be a place free from disease, infection, and pain.
Some indications that your pet may be experiencing problems from dental disease include:
Bad breath
Difficulty eating
Demonstrating pain when chewing food or when touching
Pet's mouth
Excessive drooling
Red or inflamed gums
Dental prophylaxis: Teeth cleaning and polishing performed by a trained veterinary professional can help prevent disease in your pet. Listed below is what's included in your pet's professional teeth cleaning:
Pre-anesthetic evaluation/assessment by a veterinarian
Placement of the intravenous catheter
Anesthesia
Fluid therapy during the procedure
Full mouth dental radiographs
Probing (assessment of gum disease)
Ultrasonic scaling (removal of tartar build-up)
Polishing
Imaging (X-Ray & Ultrasound)
Most people are familiar with the use of radiography and X-rays to diagnose dental and skeletal issues. At Anderson Veterinary Clinic, we offer both X-ray and ultrasound capabilities as diagnostic tools for your pet.
Radiology
X-rays can often be completed the same day to ensure your pet receives the appropriate treatment in a timely manner.
Radiographs are the safest, most efficient way to analyze your pet's bones and internal organs. As an added benefit to our clients and patients, we utilize the expertise of our team of veterinarians as well as Board Certified Veterinary Radiologists for radiograph interpretation.
Commonly used to diagnose:
Broken or dislocated bones
Bladder and kidney stones
Bowel or urinary tract obstructions
Tumors
Joint inflammation
Damage or infection of the lungs, liver, kidney, and heart
Dental disease
Teeth that need extraction or bonding
Radiography is painless and non-invasive. However, sedation is sometimes required to ensure the ideal positioning of pets during the procedure.
Ultrasonography:
Ultrasonography, or ultrasound, uses sound waves for internal imaging. These waves bounce off the body's organs to create a real-time, moving image of the abdominal and chest cavities. It can also be used to detect tumors and cysts, study the shape and texture of organs, and diagnose fluids or stones in the digestive and urinary tracts. Like radiographs, ultrasound is completely painless and non-invasive (sedation is sometimes required to ensure the ideal positioning of pets during the procedure). As an added benefit to our clients and patients, we utilize the expertise of our staff veterinarians as well as Board Certified Veterinary Radiologists for ultrasound interpretation.
General Surgery
At Anderson Veterinary Clinic, we can perform almost any surgery your dog or cat might need, or we can direct you to the right expert if you need help. Our knowledgeable veterinarians provide a wide range of surgical services at our clinic, from simple to primary operations.
Our veterinarian team goes above and beyond to provide your pet with the best care possible. To keep your pet comfortable throughout recovery, we do pre-operative physical exams and pre-anesthesia testing, monitor your pet during surgery, and give medications as necessary.
The safety of our patients throughout procedures and other medical treatments is a top priority. To ensure the patient's comfort and safety, our veterinarians and veterinary technicians are qualified to administer anesthetics and monitor them. Anesthesia and patient monitoring vary greatly from clinic to clinic. You can relax knowing that we use the most modern and efficient techniques. We employ a variety of anesthetics depending on the surgery. While some surgeries need a local anesthetic, others call for a general anesthetic. Whether simple or complex, we attentively supervise every procedure.
General Anesthesia
It's very common to worry about your pet any time he or she has to undergo anesthesia. While there is some degree of risk with any medical procedure, we utilize the safest available medications and require pre-operative blood testing to ensure that your pet is healthy enough for anesthesia.
We closely monitor all vitals to make sure your pet is safe and unharmed while he or she is under anesthesia, including heart activity, ECG, blood pressure, oxygen saturation, respiratory system, and temperature.
In addition, our experienced medical team provides skilled pain management during and after all surgical procedures to see that your pet recovers quickly and with minimum discomfort.
There are two main forms of anesthesia: general and local. General anesthesia is what it what is often referred to as "putting someone under." Once your pet is cleared for general anesthesia, he or she will be injected with a short-acting agent that leads to a loss of consciousness. We then insert a soft plastic tube into your pet's windpipe through which oxygen and other gasses will flow. Anesthetized pets and their vital signs are monitored constantly during any and all procedures so that, in the unlikely event of an adverse reaction, we can respond to it immediately.
Local anesthesia, on the other paw, refers to the one-time injection of medication meant to numb a particular area of your pet's body, for example, when giving your pet sutures. Your pet will be awake the entire time, and while he or she might feel some pressure at the injection site, there should be no significant pain or discomfort. Side effects are very rare and usually mild.
Have questions about general anesthesia prior to your pet's appointment? Don't hesitate to give us a call.
Pharmacy
Anderson Veterinary Clinic is always looking to make your experience with us more enjoyable, efficient, and convenient. We offer an on-site pharmacy that can fill your prescriptions while you wait, and you can even send your prescription refill requests to us on this website or via phone. Just log into the pet portal on the front page and follow the instructions.
Having an on-site pharmacy is important to us because the convenience of seeing your pet's doctor and being able to pick up your pet's prescription medication in a single visit reduces the time and cost you may incur both on the initial visit and any future medication refill visits. Also, having convenient and immediate access to the many preventive and therapeutic medicines ensures pets can start recommended medications right away. We offer a wide range of drugs and can special-order prescriptions for your pet, so we are confident that our pharmacy will provide you with everything you need.
In House Laboratory/Diagnostic Testing
An in-house pet laboratory is specifically designed for the diagnostic testing of animals, typically pets such as cats and dogs. They are equipped with the necessary equipment and staff to perform a wide range of diagnostic testing. It eliminates the need to send samples to an outside laboratory, which can take several days to receive results.
These tests can include blood work, urinalysis, fecal analysis.
This allows veterinarians to quickly and accurately diagnose and treat a wide range of medical conditions, and with immediate access to test results, veterinarians can make prompt and informed decisions about the best treatment for their patients.
If your pet has a skin or ear infection or has masses, our doctors will offer to perform cytology to better evaluate what is occurring. Cytology consists of collecting samples of cells in the area of interest and examining them under the microscope to identify bacteria, fungus, and mites or evaluate the type of cells a tissue or mass is comprised of.
The laboratory equipment used in an in-house pet laboratory is state-of-the-art and specifically designed for use in animals. This includes blood chemistry and hematology analyzers, microscopes for examining cells and tissues, and culture equipment for growing bacteria and other microorganisms. These tools and technology allow veterinarians to perform a wide range of diagnostic tests and make accurate diagnoses, leading to better pet outcomes.
Veterinary laboratories are a significant part of providing quality care for pets.
BLOODWORK
In cases of illness, wellness/preventative care visits, and prior to surgery, our doctors will recommend performing bloodwork to better evaluate your pet's organ functions. Most commonly run is a CBC and a Biochemistry. Biochemistry will provide values that are reflective of many systems, including kidney and liver function, blood glucose, and electrolytes. CBC will provide values that evaluate for signs of anemia or inflammation.
URINALYSIS
Collection and analysis of urine can help diagnose potential urinary tract infections and evaluate kidney function as well as other conditions.
If bacteria are present in the urine, a culture and sensitivity will often be recommended to ensure the appropriate antibiotic is used to treat the infection.
CYTOLOGY
If your pet has a skin or ear infection or has masses, our doctors will offer to perform cytology to better evaluate what is occurring. Cytology consists of collecting samples of cells in the area of interest and examining them under the microscope to identify bacteria, fungus, and mites or evaluate the type of cells a tissue or mass is comprised of.
HISTOPATHOLOGY
If your pet is having a mass removed, it is recommended to submit the mass for histopathology. This will allow identification of what the mass is and if the mass was fully removed.
Prescription Diets
Here at Anderson Veterinary Clinic, we are very excited to offer nutritional advice. Nutrition is so important for pets throughout their lives. As animals age, their nutritional needs change. There are puppy, adult, and senior diets to accommodate pets' changing needs. Then there are also diets made to help pets with certain diseases and conditions.
Did you know, you can save money and order your pets food directly to your door by ordering through our online pet store at https://www.myvetstore.ca/.
Parasitology (Worms, Heartworm)
Pets are a part of our families, and preventing parasite infestations is an important part of keeping them healthy. Both ectoparasites (external parasites) and endoparasites (internal parasites) can affect your pet at some point in their life. Ectoparasites, such as fleas and ticks, are not only a nuisance to your pet but can transmit vector-borne diseases to humans and pets, such as Bartonella (cat scratch disease, transmitted by fleas); Lyme, Anaplasmosis, Ehrlichia, and Rocky Mountain Spotted fever.
Heartworm is another important endoparasite, but one which is not zoonotic. Heartworm infections result from pets being bitten by infected mosquitos. The larval form of the heartworm travels through the bloodstream to the heart, where it develops into an adult. The adult heartworms live in the right side of the heart and, left untreated, result in progressive heart failure and death. In the initial stages of heartworm disease, pets may be asymptomatic. As the condition progresses, symptoms may evolve, including a cough and exercise intolerance in dogs and vomiting/coughing in cats. Treatment of heartworm disease can be very risky for the pet and very costly so monthy prevention from June to October is highly recommended.
Orthopedic Surgical Referrals
Pet orthopedic surgery is highly effective for returning a cat or dog's joints or bones to their normal state of health. Veterinary orthopedic surgery deals with preventing, diagnosing, and treating conditions related to a pet's musculoskeletal system — including bones, joints, ligaments, muscles, and tendons. We surgically treat diseases and abnormalities such as bone fractures, CCL tears (like an ACL in humans), hip dysplasia, and patellar luxation or floating kneecaps using state-of-the-art orthopedic techniques and technology.
Signs Your Pet Needs an Orthopedic Consultation
Orthopedic surgery may be required due to trauma; however, often, it's necessary because a disease or congenital condition causes pain and mobility issues and negatively impacts a pet's quality of life. Symptoms include lethargy, temperament changes, limping, gait changes, excessive licking or chewing, reluctance to go up or down stairs, and full or partial paralysis.
Types of Pet Orthopedic Surgery
Cruciate Ligament Disease
Extracapsular Stifle Stabilization for CCL Injury
Tibial Plateau Leveling Osteotomy (TPLO)
Diseases of the Hip
Femoral Head Osteotomy (FHA)
Hip Luxation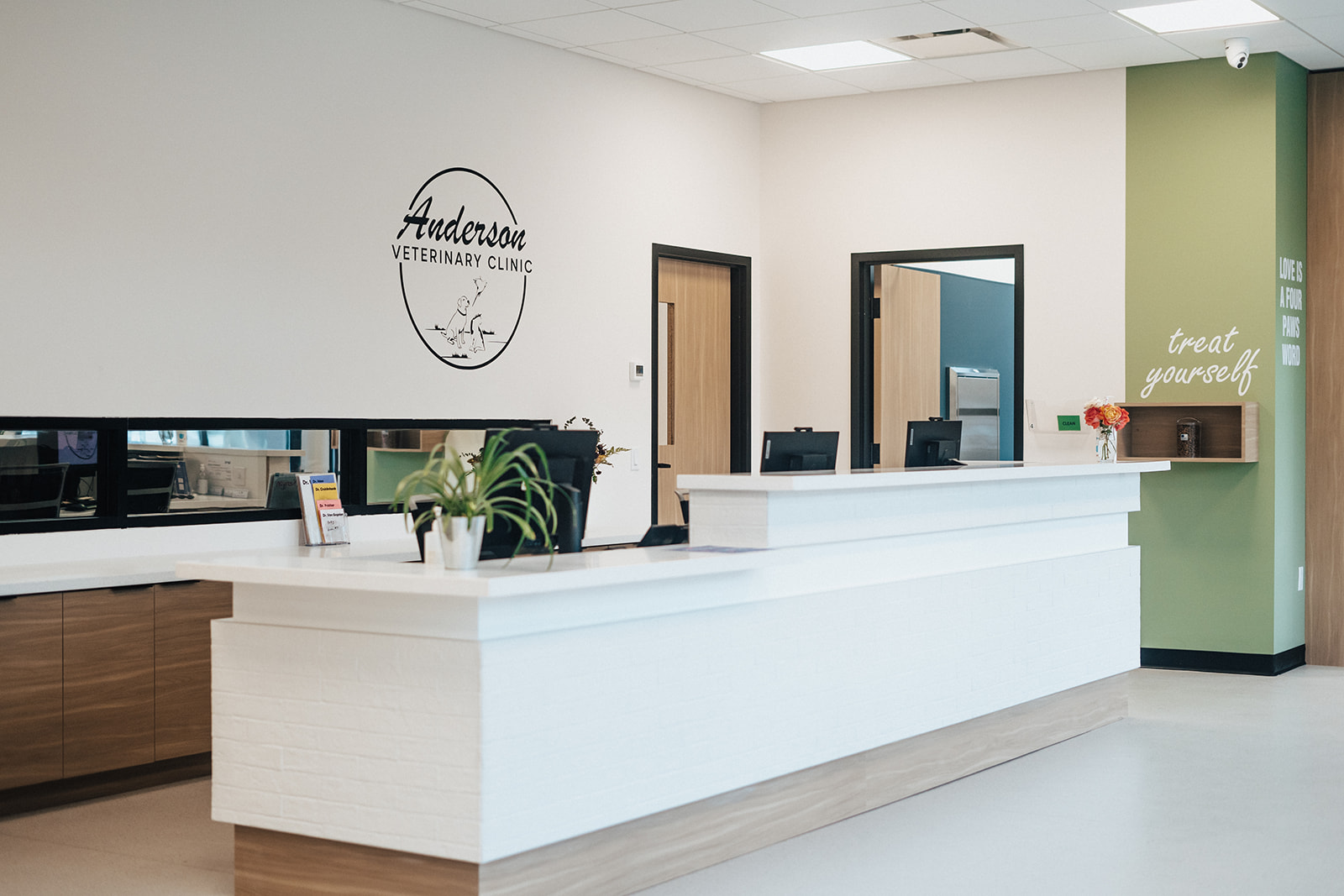 Admissions
For the safety of you and your pets, we respectfully request that all dogs be brought in on a leash and cats in a carrier.
Animals are admitted to the hospital between 8:00 am-8:30 am. For procedures involving sedation or general anesthesia, please ensure your pet fasts from 7:00 pm the night before. They may have access to water through the night. Before arriving at your scheduled admission appointment, please give your pet the opportunity to void.
Appointments
Please request an appointment by one of the following ways- PetDesk, Anderson Veterinary Clinic or 250-493-0503.
Cancellation Policy: If your schedule changes and you are unable to keep an appointment, please contact us as soon as possible so we can reschedule and offer the spot to another patient. Out of respect to our staff and other clients, we ask for at least 24 hours notice when cancelling an appointment.
If you miss a scheduled appointment or cancel/reschedule with less than 24 hours notice, your account may be charged a cancellation fee. This fee must be paid prior to booking your next appointment.
We reserve time for your appointments, so if there are any problems with your scheduled appointment time, please call us with at least 24 hours notice so that we may reschedule the appointment.
Health Insurance
There are many pet health insurance companies offering health insurance for your pets, so definitely research a company/plan that is best for you and your pet. Our team can provide you with their names. We do not bill pet health insurance companies or third parties on your behalf. Accordingly, we will expect that payment to be received directly from clients as the services are provided. We are pleased to prepare reports and claims for you to submit to insurance companies upon receipt of payment for services rendered.
We also offer financing through www.Scratchpay.com Scratch Pay is a simple and easy financing option with custom payments and has no hidden fees or penalties.